It's obvious that every healthcare brand needs to curate a good following on its social media platforms. Having a large following on social media allows you to:
- increase your brand awareness

- distribute your content

- drive website traffic

- build engagement
- generate leads
...among many other opportunities. If you want to gain a large following you probably need to buy your followers, right? Not exactly.
When you buy followers through third-party platforms, they are often inactive accounts or bots that won't even engage with your healthcare content. Because of this, you won't have a real audience that you can learn from and tailor your content to. It'll be difficult to measure how well your target audience is connecting to your healthcare brand if the majority of your followers aren't real.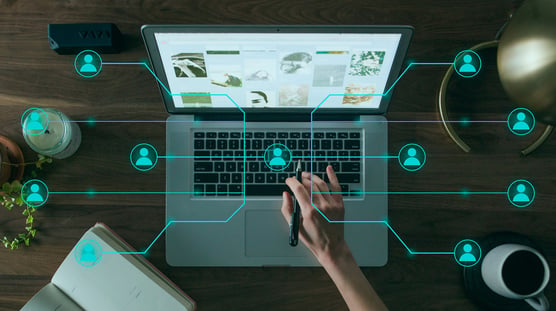 Additionally, to anyone who knows social media, they will quickly be able to ascertain that your following is fake, ruining any credibility the high number of followers provided. You also run the risk of getting your account suspended or shut off by Twitter. It's just not worth it. Instead of wasting your money on insignificant or "fake" followers, you should allocate your funds towards a Twitter campaign.
Use Twitter for Business
Twitter for Business is a tool created by Twitter that helps businesses optimize their promotional efforts. Here, your healthcare company can promote its account, tweets, and videos. It can learn how to find the appropriate target audience, use insights, analytics, and several types of metrics to measure success. Twitter for Business has a step-by-step guide that details how to launch a Followers campaign.
When creating your Followers campaign for your healthcare organization's account, you'll have to set a budget and timeline for your campaign. This is where you use the money you would have spent on your fake followers from an illegitimate third party. You can use an Automatic Bid for easy results at a reasonable price, or a Target Cost, where you select your price for each follow. Next is one of the most crucial parts of your campaign, which is selecting your audience.
Segmenting Your Audience
There are several ways you can select your target audience.
Event Targeting
One way is event targeting. You can target events up to 2 weeks before they start to garner interest and reach excited attendees, and up to 3 weeks after it's over to reinforce learnings and maintain buzz. Suppose there is a Healthcare IT marketing conference or webinar coming up. You can use this option to reach people who are interested or participating in the event.
Conversation Targeting
Another option is conversation targeting. Twitter offers over 10,000 conversation topics you can choose from. Be sure to select a relevant topic for your campaign such as a specific product or device in Healthcare or Health IT.
Keyword Targeting
A similar option is keyword targeting. You can add keywords that will expose your campaign to people who have used those keywords or interacted with a tweet that has featured the words. As a healthcare marketer, you could consider including keywords such as telehealth, EHR, COVID-19, telemedicine, health tech, and other specific words or hashtags that your prospective audience may use.

Look-alike Targeting
Another cool option for selecting your target audience is follower look-alikes targeting. With this method, you can select multiple accounts to target people who have similar interests to their followers. For example, @HealthTechMag has over 3,100 followers. By selecting their account using follower look-alike targeting, your campaign will be exposed to accounts that are similar to Health Tech Magazine's followers. This is a great way to attract followers from different facets of the healthcare industry.
Selecting Your Tweets
The next step is choosing the tweets you want to feature in your campaign. These are the tweets your prospective audience will see, so you want to be strategic with which tweets you post. Consider using interesting images and referencing the latest trends in healthcare. Include specific words and phrases that will resonate with your audience. You want to use captivating content that will spark your audience's interests so that they will want to learn more about your account and follow you.
A quick list of Don'ts:
Don't be salesly.

It will turn people off. No one wants to follow an account that is going to show them ads for products or services.

Don't put other links or calls to action within your tweet

. The one call to action should be to follow your account. No distractions.

Don't choose tweets without testing them first organically.

This is an easy way to save a bit of budget.
After selecting your tweets, you will finally be ready to launch your campaign!
Reviewing your Results
After launching your campaign, using the Ads Manager on Twitter, you will be able to monitor the success of your campaign. You can view the impressions that your tweets have made in your campaign, how many followers you've gained, and other important metrics. Be sure to use this information to reflect the progress of your account, and instruct you on how you can perform better on your next campaign and on your Twitter account in general.
Important Takeaway
Think of a Twitter Followers campaign as a way to introduce yourself to interested, active accounts on the platform. While you are spending a budget, you're not really "buying" followers. By creating a Followers campaign on Twitter, you can make more meaningful connections with real followers through your mutual interest in healthcare.