With the pandemic affecting health IT marketers, healthcare and tech professionals are unable to work in their offices and meet many of their patients in-person. To help protect the lives of both the patients and providers during the pandemic, healthcare and IT organizations and providers are offering virtual care programs and visits through telehealth. Here are 5 examples of how virtual care is changing: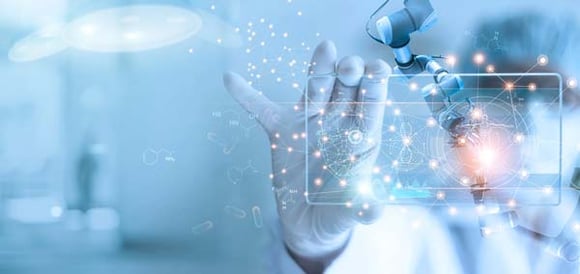 1.Tele-ICU or e-ICU
Tele-ICUs are enabling healthcare professionals to remotely monitor patients in the ICU, using high-definition cameras, telemetry, predictive analytics, data visualization, and advanced reporting capabilities that work within algorithms to alert them to signs of patient deterioration or improvement. Currently, tele-ICUs are not designed to scale to the patient load levels of a pandemic such as COVID-19, but are being adapted to try and contain and fight the pandemic.
2. Health Tech Wearables
Wearable personal IoT devices can track vital signs, such as measuring heart rate and skin temperature, which are known to go up when the body is fighting an infection. Currently, Stanford Researchers are determining whether consumer wearables, such as Fitbit, Apple Watch, and more, can track the onset of infections, due to the prevalence of asymptomatic carriers and the lack of available testing.
3. ChatBots
Conversation AI or Chatbots, allow information access through text or voice-based interaction, and are being leveraged in the fight against the pandemic. Chatbots are available 24/7 and can make initial diagnoses based on symptoms identified by patients. Chatbots can increase the dissemination of COVID-19 information by healthcare providers and organizations, such as WHO and the CDC, who are currently using chatbots on their websites to provide current information to billions on the spread of the disease and the symptoms. Conserva and Healthgrades have also developed a symptom-checking bot for messaging.
4. Video Platforms in Health IT
In March, the Department of Health and Human Services announced that video platforms, like FaceTime and Skype, are temporarily acceptable for healthcare providers to use. If a person does not have a primary care physician or they require urgent care, telemedicine video platforms such as Doctors on Demand and Teladoc are also acceptable. Many hospitals are also encouraging patients to use virtual urgent care for consultation before heading to the clinic if a patient is not sick enough to require hospitalization, to prevent the spreading of the virus, and to receive quick identifications for their symptoms. However, public-facing video platforms like Facebook Live and TikTok should be avoided.
5. Healthcare Apps
Healthcare providers all over the world are creating and using virtual care telehealth apps to see their patients. True Women Health, for instance, has launched an app that tracks and manages symptoms and activities to improve the well-being of women, and offers virtual visits with the founder and OB/GYN Diana Bitner M.D. Telehealth apps are also being used for mental health reasons and have played a huge role in assisting rural communities and health tech marketers.