Video content is informative, concise, and engages its audience. Healthcare marketing videos can personalize your message, whether it is for marketing, communications or directly healthcare purposes. In this digital age, video is the ideal way to get your message across.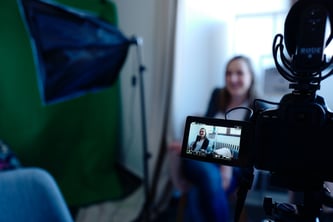 Video content is the future of social media marketing
According to HubSpot, a holistic marketing, sales and software resource, video content is by-passing the image and text markets.
59% of executives claim that consumers prefer video content over text when both are provided.
49% faster. That is, marketers utilizing video content increase revenue 49% faster than those who do not.
82% of global internet traffic by 2022 will be made up of video content.
Why videos are the future of social media marketing
Videos are interactive; they tell a story to the viewer on a personal level one-to-one. Videos allow healthcare companies educate, share, and entertain. In other words, videos represent your health IT brand, including but not limited to: your healthcare brand's tone, aesthetic, message and goals. Videos also present an opportunity to humanize your brand, either having an employee teach something to your target audience, or by simply leaving the video like a gift, "From Me, To You."
Keep this in mind when creating video content
It will be crucial to understand your health IT company's buyer's persona prior to creating any video content.
Consider:
→ What is the purpose of this content?
→ Who am I writing to?
→ How does my healthcare audience feel about this content?
→ What does my healthcare audience want to better understand?
→ What kind of tone should I use?
Many purchasing decisions are emotionally based. Videos allow your audience to remember your informative and outgoing videos as being helpful and reliable, which can secure trust for future transactions.
Ultimately, ask the question, "If my brand was a person, how would they act?" and convey this persona through videos and building a connection between your brand and audience.
Happy creating!