Your healthcare company's online presence is crucial. Websites are one of the most powerful digital marketing tools. Your website is your healthcare company's reputation or "first impression." Many healthcare colleagues, investors, customers, and team members are going to visit your site to learn more about your healthcare company which is why it is imperative your website clearly states what you do. If you haven't updated your website in the past 2-3 years, then you might want to keep these 8 best practices in mind.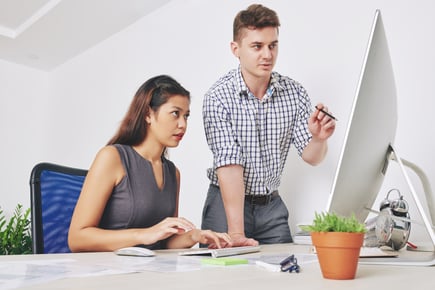 1. Minimize Text
Do not fill your web pages with large blocks of text. Keep text to a minimum. Tell your customers all about your business and what your mission is. Having enough white space is key.
2. Elevate your site with visuals
Visuals not only help you simplify written content on one page, it helps provide a deeper understanding and representation of the material.
3. Follow your brand guidelines and color palette
Customers will analyze and interpret if your healthcare company's website is good in less than 90 seconds. Stay on brand. Make sure you are able to align your healthcare company's message with your brand.
4. Make your call to action clear and obvious
Big, bold, and powerful. These CTAs must clearly stand out as the action you want your customers to take next.
5. Simplify the navigation
Fewer options in the menu option, the better. Most websites put the navigation menu horizontally at the top of each page. It will be easier for your healthcare customers to choose a selection that fits their needs.
6. Optimize your design for mobile devices
Mobile SEO is the most important thing that you can do in order to rank well on Google. If your website does not work properly on a mobile device, customers will not want to revisit your website.
7. Prioritize SEO
Always add keywords especially in the homepage to boost website performance and traffic. Check to see which words and phrases are relevant to your healthcare and that rank the highest on Google.
8. Continuously run A/B tests
No website is ever fully "done." There is always room to improve your website as new trends in technology are being discovered. A/B testing allows your healthcare company to test different elements of a website to see what is working and what needs improvement.
---
We are currently offering website services for your healthcare company. KNB is a full service PR and marketing agency specializing in healthcare and health IT. Receive a free quote below.