We can achieve so much more in healthcare marketing when we are collaborative rather than competitive internally. However, particularly in metrics-driven, B2B healthcare marketing, there is a propensity for things to get competitive. Based on our 20 years of experience in the field, here are our top tips on how to keep your marketing department collaborative.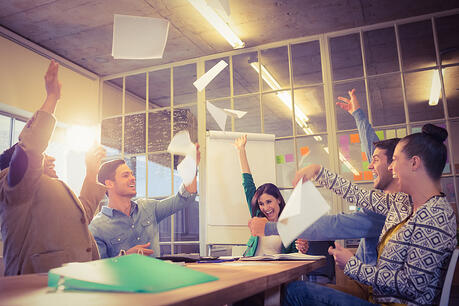 1. Hire wisely. Any new members of your team should be vetted carefully. Look for team players. The ability of each person to bring unique skill sets is vital to success, but they also must be able to incorporate those skills into the team.
2. Management must communicate constantly. Management should speak with employees individually every time a change to the marketing department is made, and explain the thought process behind it. This way, employees understand exactly where their strengths are, what they can do if they want to improve on any area, and how to achieve their goals. Don't ever compare employees to each other in the course of this communication.
3. Consciously, proactively manage morale. Don't wait for complaints. Appoint an internal morale team to promote a positive culture. One of their activities can be compiling and composing a weekly newsletter that gives updates on employees' personal lives -- from weddings to birthdays to vacations. The news and pictures help employees feel connected to one another. Everyone is reminded their colleagues are all living full, rich lives as whole people and it makes them understanding of each other at work.
You can also provide a forum for commendations where employees recognize each other. It can be for a job well done professionally, or for something on a personal level. Creating a space where giving praise is just as encouraged as receiving it, people feel appreciated by each other.
You can also recognize professional wins individually, but celebrate them as a team. Tokens as small as lunch, ice cream, treats, or handwritten cards can go a long way in making employees feel appreciated.
4. Allow time to recharge. Don't penalize employees for taking their vacation days. When people go on vacation, they can safely unplug and recharge their batteries without fear of losing out on a promotion or receiving negative feedback. Showing employees that their mental health is valued and having them cover for each other rather than giving them an opportunity to take over is better for keeping a harmonious office.
Do you have any other tips?