There's a perfect storm brewing for some of the highest digital ad prices U.S. B2B healthcare marketers have ever seen.
-People are at home. Many more people are working from home, people are traveling way less, and many in-person events (including conferences, sports, and concerts) are not happening. A lot of the dollars that were being spent in airports, on trains, in sports arenas, at trade shows -- are now being spent on digital ads trying to reach people the one place we know they still are: in front of their computer and their mobile phones.
-There's tens of millions of dollars being dumped into the market by presidential campaigns and voting campaigns through November, driving up prices.
-Prices usually go up around the year-end holidays, and this year many more people will be shopping online. The competition to get in front of the affluent eyes of the decision makers we as health tech marketers target will be fierce.
So, is all lost?
Should we just pull the budget and hunker down until 2021? That is absolutely not what we are suggesting. That is how we will fall behind all our competitors. No, we are suggesting that we get creative. Here's our top 4 ways: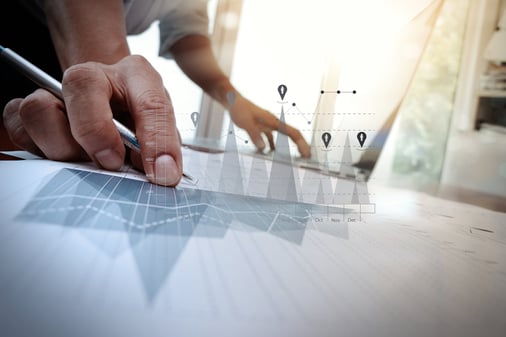 Be very specific with your search campaign keywords
While it's true that less people are actively searching to make large capital investments into health tech at this time, you should set your sights on capturing as many of the remaining searchers as you can. Bid prices have gone up across the board, but you can reduce your wasted spend by:
-getting super-specific,
-using long-tail keywords, and
-adding negative keywords.
This way, you're only showing your ads to the most relevant eyes and only paying for the clicks that have a higher chance of leading to a conversion.
Tighten up that targeting for display and social ads
People are spending even more time online these days, but that doesn't necessarily make them easier to reach with your ads. Try to reach your intended audience when and where they will be most receptive to your ads. Block out geographies that are not part of your core target market, or perhaps those areas which are highly preoccupied with putting out huge forest fires. Think about what times of day you want your ads to be served. Do several campaigns with tight geo-fencing around "hot spots" for your product or service. The idea is: don't spend your precious dollars on impressions that won't convert.
Leverage your network
Here's where us digital marketers can help each other. Be open to cross-promoting and collaborations with partner companies, virtual conferences, organizations, and influencers, for example. Reach out to your network, and brainstorm novel ways of spreading awareness for each other. This organic traction cannot be purchased, but it is very valuable.
Be extra visual and extra creative
Ad fatigue is real, y'all. We're each being served literally thousands of ads a day. Can you remember even a handful? We have a way of glossing over them. Any digital ads you put out during this time should be incredibly eye-catching and as far out-of-the-box as possible. Here are just a few ideas:
-Make your ads interactive
-Quasi-personalize (by location, weather, occupation, etc.)
-Include lots of empathy and acknowledgement for what is happening in the world right now
The better your ad performs, the higher the quality score it will be assigned, and you will be rewarded with lower prices.
And while you're doing all this, don't forget to manage the expectations of anyone you report to. Your volume of impressions and clicks will very likely go down this Q4. However, your click-through rate can still go up. Your conversion rate may even increase. If you present your strategy and shift the focus to different KPI's in advance, you can still be recognized as the B2B digital marketing superstar that you are.
Not enough time? No worries, let us tackle your ad strategy for you.