COVID-19 has left many people with feelings of distress and anxiety. Here are some ways that healthcare marketing directors can promote a healthy work environment for their employees.
1. Set Goals
Setting goals is a great way for your healthcare marketing department to gain a sense of direction and motivation. Without having goals in mind, your marketing department can feel lost which can contribute to confusion and stress in the workplace. It also fosters accountability on each person to adequately complete their tasks, especially in a remote environment. When everyone is accountable, no one in your healthcare organization has to feel the brunt of picking up where another colleague was lacking.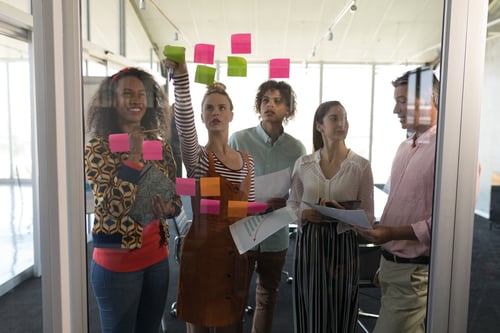 2. Communicate
It's imperative that you utilize good communication skills to your healthcare marketing team, especially if your healthcare company is operating remotely during this time. Be clear and direct with your team members so there is no room for confusion. In addition, allow transparency with your marketing department and align with your sales team. Be sure to help your fellow employees feel open to discussing the problems they are experiencing during the pandemic. You don't want to make your co-workers feel as if you only care about the quick turnaround on assignments and not their general well-being.
3. Be Understanding
Everybody is affected by the pandemic in some way. Make sure you are empathetic towards your marketing team since some might face different circumstances during the pandemic. You may have to accommodate and allow flexibility in the office or remotely. This will facilitate an environment where employees will be able to improve their work-life balance, and help them adapt to the changes in dynamic of your healthcare organization.
4. Begin a De-stressing Initiative
Create a schedule of different activities for your marketing team to look forward to. This is a fun and interactive way to help your team unwind and bond together. This can be group yoga, meditation, or even an ice cream social.
Here at KNB, we began an initiative called Wellness Wednesday, where we meet for ten minutes and identify methods to reduce stress. Wellness Wednesday is a way to recognize that this is a hard time for everyone mentally, and we are coming together to try to reduce each other's stress. Check out our blog about Wellness Wednesday and enjoy a free schedule with fun activities for your team!
5. Accept Feedback
Allow your healthcare marketing co-workers to express how they feel about the work culture and what improvements can be made. You won't know for sure what they think of your healthcare company's environment unless you allow some form of open dialogue. You can facilitate an annual check-in survey for them to express their concerns on a weekly or monthly basis. After listening to your team's opinions, take the appropriate measures that are needed to meet your company's needs. Find specific ways you can make the work culture feel more comfortable for each employee.
Looking for more ways to boost your healthcare company's morale? Chat with us!