The CDC recommends washing your hands for 20 seconds. Instead of counting for 20 seconds or singing "Happy Birthday" twice, try singing along to one of these popular song choruses! As a PR and marketing agency in the healthcare tech space, we try to sing at least one of these songs. Music always brings a community together; and as a collaborative agency, we thrive on community and bringing the healthcare PR and marketing team together especially with all of us working remotely.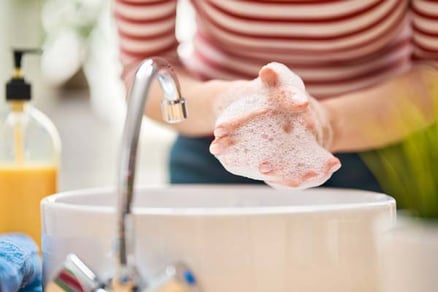 1. "Stayin Alive" by the Bee Gees
This song has two vital health uses! The chorus to this song is not only 24 seconds long, but it is also the cadence for CPR. Also, music is helping everyone, including healthcare tech marketers, stay sane.
2. "It's The End Of The World As We Know It (And I Feel Fine)" by R.E.M
This song is pretty self-explanatory for anyone including healthcare marketers! If you have been social-distancing yourself and washing your hands while thinking of your next healthcare marketing plan, you should "feel fine."
3. "I Will Survive" by Gloria Gaynor
This 1978 hit with one of the greatest singers is to uplift your spirit, flatten the curve, and survive the spread of the coronavirus as you navigate your work day. Agencies should keep this song in mind when their marketing and PR team are trying to think of new healthcare strategies.
4. "Truth Hurts" by Lizzo
With a roughly 20 second chorus, the longest-running Billboard Hot 100 No.1 song by a solo female rapper is a must for your hand-washing playlist. I think women in health IT should have their own No.1 rap song.
5. "Bye Bye Bye" by NSYNC
It's always good to have a song you can dance to while you can wash your hands! Say bye bye bye to the germs on your hands with this 90s classic. Who says healthcare marketers can't dance to this throwback? If you need a break from sitting in a chair working from home, why not stand up and start dancing to jog those creative juices.
Which one is your favorite?