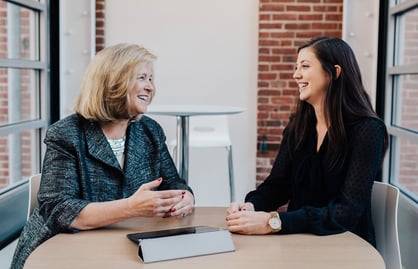 If you watch any amount of cable news, chances are you've seen an interview go off the rails.
Someone is asked an unexpected question and instead of pivoting, they panic. At best, the
response might be inappropriate and make viewers wince. Sometimes, the response goes viral
— and not in a good way.
To avoid becoming an internet meme after your next health IT media interview, you need to know how to build a bridge. Bridging allows you to control the conversation and shift any negative questions towards the key messages and helpful information you want to share.
Let's say you work for a medical nutrition company that's just launched a new product designed to help people with cystic fibrosis absorb the nutrients they need. You want the audience to know your product is the first medical food approved to help patients absorb more healthy fat, calories, and nutrients. Here are a few ways an interview could go wrong, and how you can build a bridge to correct course:


1. Know what you want to convey.

Remember that what's important to you isn't always top of mind for the reporter. Know your key messages and take every opportunity to weave them into your answers.

Reporter: "Most people aren't looking to gain weight! Why is absorbing fat important?"
You: "Patients with cystic fibrosis can't always absorb the fats and nutrients needed for a
healthy immune system. This makes them more susceptible to illness and infection."
Bridge: "That's why our product is so critical. It helps patients absorb additional fat, improve
their nutrition and overall health, and ultimately live a healthier life."


2. Stay on track.

Don't let an irrelevant question detract from your message. If a reporter veers off course, build a bridge that delivers them back to the road you're on.

Reporter: "Isn't obesity a far bigger problem than cystic fibrosis?"
You: "Cystic fibrosis is a rare disease."
Bridge: "The importance of proper nutrition isn't limited to one section of the population.
Everyone benefits when their unique nutritional needs are met, and our product specifically
helps those who live with cystic fibrosis live a healthier and more fulfilling life."


3. Don't play psychic.

Sometimes a reporter will want to tap into your expertise to draw a conclusion and support their speculation. But if you guess wrong, it could harm your credibility in the future. It's safer to stick with what you know and avoid peering into a crystal ball.

Reporter: "Do you think this product will be the most exciting medical invention this year?"
Your answer: "We know patients with cystic fibrosis are very excited about our product."
Bridge: "We've received tremendous feedback from patients who have seen promising results
and we are confident it will improve the lives of the those who use it."


4. Drama — diffuse and refuse it

Sometimes a reporter might send a zinger your way to see if there's more to the story. Getting
defensive suggests there is! And it's what the audience will remember. Instead, provide a
transparent and thoughtful response.

Reporter: "Patients with cystic fibrosis cost taxpayers over ten billion dollars every year in
healthcare expenses. How will your product help reduce that burden?"
Your answer: "I've never heard this statistic and I'd be interested to know your source."
Bridge: "That said, rare diseases are expensive to manage and treat. Our product helps
patients absorb the nutrients they need, allowing them to live healthier lives and reduce their
risk for infections and other costly side effects of a cystic fibrosis diagnosis."
Providing meaningful answers to difficult questions is a learned skill. Using these tips can help
you deliver your message with credibility and impact.

Have a media interview coming up? Don't cross that bridge when you come to it! Schedule a
media training session with one of our experts today!