The month of March represents Women's History Month. In honoring the women of yesterday, today, and tomorrow, we would like to highlight the women of the "now" at KNB Communications and acknowledge their expertise. We interviewed our Director of Marketing, Beth Cooper, and VP of Client Services, Yuliya Kutuzava to gain their perspective as leaders in the healthcare and IT industry. March shouldn't be the only month we recognize these women because at the end of the day, a woman could be a mom, sister, daughter, student, but also a person.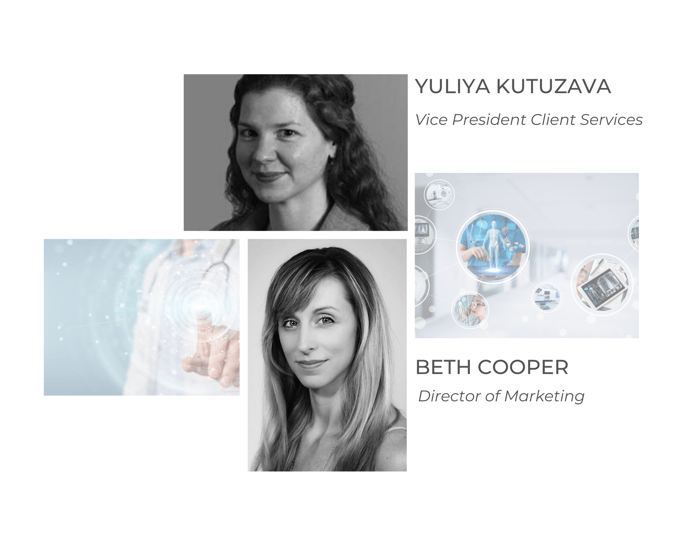 1. How did being a woman influence your career in Health IT?
My career is that of a communications/PR professional who works in the health IT space. I tend not to think about being a woman vs a man, I focus on the task at hand and how I can solve it best. Being a communicator in health IT allows me to combine two areas I love: creativity (communications) and technology or science (the subject matter expertise that my clients bring to the table).
~Yuliya
2. What do you hope women will gain as leaders from the role model you are?
I hope they will see they don't have to adopt the traditionally masculine qualities that have been associated with 'leadership' to be effective. If you're naturally authoritative or aggressive, that's fine and lean into it. But, if you're more collaborative and empathetic, there's a place for leaders like that as well. We should be able to be true to our personal styles without conforming to gender-stereotyped values.
~Beth
3. How have your contributions inspired others in Health IT?
I hope that my passion for highlighting the solutions to some of the toughest problems in healthcare is inspiring to my colleagues, clients, partners and friends. Awareness and knowledge help move us toward achieving the goal of health and wellness.
~Yuliya
4. What advice would you give women in IT?
Help other women. It's still a male-dominated industry, and the pay gap is real. Mentor, encourage, give advice, and promote women and their ideas as much as you can.
~Beth
5. What have you been the proudest of over your career?
I'm proud to partner with some of the smartest and brightest people in the industry and help them tell their stories about the impact they make on the health IT industry, healthcare and our society.
~Yuliya
6. Why is it important to have women represented at the officer/executive level in the healthcare IT industry?
Representation is everything. If women cannot identify with people in leadership positions, they won't even consider that role to be an option to them. It's also important for those in a position to hire to understand that if they choose a woman for an executive role, she will be taken seriously and have the support she needs. When the genders are more equally represented in executive levels, these issues will no longer exist.
~Beth
Who do you celebrate everyday?
---
We work with health and health tech companies & help them speed to success with proven formulas in public relations and marketing. Learn more by scheduling a consultation with our expert team!